Matthew 5: KJV
10 Blessed are they which are persecuted for righteousness' sake: for theirs is the kingdom of heaven.
11 Blessed are ye, when men shall revile you, and persecute you, and shall say all manner of evil against you falsely, for my sake.
12 Rejoice, and be exceeding glad: for great is your reward in heaven: for so persecuted they the prophets which were before you.
13 Ye are the salt of the earth: but if the salt have lost his savour, wherewith shall it be salted? it is thenceforth good for nothing, but to be cast out, and to be trodden under foot of men.
14 Ye are the light of the world. A city that is set on an hill cannot be hid.
15 Neither do men light a candle, and put it under a bushel, but on a candlestick; and it giveth light unto all that are in the house.
16 Let your light so shine before men, that they may see your good works, and glorify your Father which is in heaven.
Corrie Ten Boom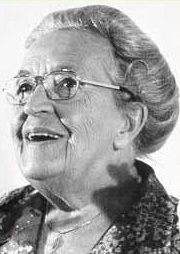 Corrie Ten Boom was a middle aged woman living in Holland. She was single and lived with her elder father and older sister. They were a family of devout Christians. When their country was conquered by Nazi Germany in 1940, things began to change quickly. Their jewish neighbors began to be arrested and sent to die in German concentration camps. Seeing their plight, Corrie and her family decided they had to help them.
They built a secret room in their house and began hiding Jewish people in their home. Whenever they found Jewish people under threat, they were invited. They stayed there until they could arrange for them to be secretly taken out of city to hide in the countryside. Through the years of the war, their family saved hundreds of jewish people.
Near the end of the war in 1944, the Nazi's discovered that Corrie and her family were helping the Jews. They were all arrested and taken to a prison in Holland. Her elderly father died the first week. Corrie and her sister Betsy were sent to a concentration camp in Germany. They worked day and night, they were beaten, given little food, slept on wooden planks, and forced to stand outside at attention in freezing conditions for hours.
Rejoice, and be exceeding glad: for great is your reward in heaven: for so persecuted they the prophets which were before you.

Matthew 5:12
After a few months in the concentration camp, Betsy died. Corrie was alone. Betsy had a dream that both her and Corrie would be set free from the camp. One week after Betsy died, Corrie was summoned to the camp office. Expecting to die like her sister, she was surprised to learn she was being set free and given a free train ride back to her home in Holland. After the war, she learned that her release was a paperwork mistake, and the week after she left all the women in her barracks were executed.
Corrie endured incredible persuection from the world around her. All because they had dared to show the love of God to people the Nazi's hated. Her case is an extreme example of the persecution children of God can suffer in this world for simply being like Christ.
You Are The Light of the World
Enduring persecution can be a hard and difficult thing. The normal human response to persecution is anger, bitterness, resentment, and a desire for revenge. But Jesus showed us a higher example. Although we may be faced with those natural responses, Christ can strengthen us to rise above. He explained that enduring persecution offers a unique opportunity to be a witness of Jesus.
When Corrie Ten Boom returned to Holland, she rested and recovered from her time in the concentration camp. She was moved by her situation to return to Germany when the war was over and share the gospel with German people. She even transformed a former concentration camp into a center to share the gospel to help the German people.
Corrie was able to use her time in the concentration camp as a testimony to minister to the very people who persecuted her. Seeing the love and strength God had given her was a powerful witness to the former camp guards and many repented of their deeds and gave their hearts to Christ. Rather than passing their hateful ideology to another generation of Germans, Corrie's work sharing the gospel caused hearts to be turned to Christ.
In the later years of her life, Corrie traveled the world speaking about her great persecution and how Christ was with her to protect her and deliver her. She shared how with time he helped her to forgive those who killed her family, freed her from hate, and restore and strengthen the love in her heart. Thousands of souls were impacted by her testimony, all because of the persecution she had endured.
Let Your Light Shine Before Men
In the midst of adversity and persecution, we may face great distressed. Paul talked about facing deep emotional despair in the midst of some of his persecutions. (2 Cor 1:8) Remembering the reward that waits for us in glory, knowing nothing can separate us from the love of God, and realizing that our tribulation today will not last forever, can help us through our days of despair.
During her time in the concentration camp, Corrie came to understand Jesus in a deeper way. Upon entering the camp, she was forced to strip her clothes and enter naked. She was horrified and cried out in her spirit. Then suddenly she remembered that Jesus had been naked when he hung on the cross, and understood for the first time the shame he felt.
If they have persecuted me, they will also persecute you.

John 15:20
The apostles Paul shared a list of the many persecutions he faced, but he concluded by saying it was worth it so that he could no the fellowship of Christ's sufferings. (Phil 3:10) In our moments of suffering at the hands of our persecutors, we can realize through our own experience the sufferings of Jesus.
Like Paul, or Corrie, on the other side of our persecution, our testimony can be a great witness to the power of God. Like Stephen, our persuectors can even come to Christ by the witness we share through persecution. (Acts 7:59, 9:5)
Just because someone rejects the gospel today does not mean they will reject it tommorrow. Just because someone does not believe today, does not mean they will not believe tommorrow. On the cross, the thief by Jesus side was mocking him. But only moment later he repented and was promised life eternal by Christ. He saw something in Jesus suffering that caused him to repent. When the love of God abounds in our hearts, even during the midst of persecution, it can open the eyes of our neighbors.
Do not be overcome by evil, but overcome evil with good.

Romans 12:21
When we are persecuted, we don't need to respond by foaming at the mouth, making visious attacks, and spreading hateful lie. Leave that to our persecutors. The children of God are not attacted by that kind of behavior, the true children of God are repulsed by it. Instead, seek to exemplify Christ.
The Cruel Pharisees
All of the greatest persecution in the bible were instituted by religious people against the true believers. It was the cruel Pharisees who orchestrated the death of Jesus Christ and accused him to the Romans. It was the same Pharisee who brutally stoned Stephen to death and had the apostle James beheaded. It was the legalistic factions who were quick to persecute Paul on his missionary journeys and accuse him to the Romans. It was idol worshipers of Ephesus who stirred up the mob against Paul in their city.
Which of the prophets have not your fathers persecuted? and they have slain them which shewed before of the coming of the Just One; of whom ye have been now the betrayers and murderers.

Acts 7:52 – Stephen speaking to the religious leaders in Jerusalem
Serving Christ, showing love, and acknowledging the truth are enough to turn many against us. We never need to be afraid of the truth. But we need to make sure we are speaking the truth in love.
When Jesus stood before Pontius Pilate, And Jesus said, "I have come to tell world the truth." Pilate interrupted him, and didn't even bother to listen to the truth that Jesus was going to share with him. He as Jesus, "What is truth?" Pilate didn't care about the truth. He didn't even let Jesus explain. When the truth gets in men's way, persecution is soon to follow for those who love the truth. (John 18:38)
For sharing the truth, our Lord was brutally beaten and torturously executed.
Comfort of the Scriptures
Jeramiah was sent by God to warn Jerusalem that its inhabitants would be destroyed because they had perverted the worship of God. Rather than repent, they locked him up in a pit to die because he told them the truth. Suffering in the pit, just about to go sink under the mud, a chord was let down and Jeramiah God delivered Jeramiah at the last minute. (Jeramiah 38)
Paul and Silas beaten and chained in jail began to sing the praises of God. The jail soon started shaking, the power of God set them free. Then through their testimony their jailer came to salvation. (Acts 16)
Looking to the testimonies of the saints who have gone before us and seeing how God moved on their behalf in their hours of persecution can give us comfort and confidence to walk on with Jesus.
Trusting God
Don't underestimate what good can come from your hour of persecution. At times our whole community may be moved against us for the sake of the gospel. Persevere, show forth the praises of God, and show them Jesus Christ.
Living For Jesus: A Prayer of the Puritans
O Savior,
Thy name is excellent,
thy glory high,
thy compassions unfailing,
thy condescension wonderful,
they mercy tender.
I bless thee for the discoveries, invitations, promises of the gospel,
for in them is pardon for rebels,
liberty for captives,
health for the sick,
salvation for the lost.
I come to thee in thy beloved name of Jesus,
re-impress thy image upon my soul;
Raise me above the smiles and frowns of the world,
regarding it as a light thing to be judged by men.
May thy approbation be my only aim,
thy Word my only rule.
Make me to abhor that which grieves thy Holy Spirit,
to suspect the consolations of worldly nature,
to sun a careless way of life,
to reprove evil,
to instruct with meekness those who oppose me,
to be gentle and patient towards all men,
to be not only a professor but an example of the gospel,
displaying in every relation, office, and condition
its excellency, loveliness, and advantages.
How little have I illustrated my principles and improved my privileges!
How seldom I served my generation!
How often I injured and not recommended my Redeemer!
How few are those blessed through me!
In many things I have offended,
in all come short of thy glory.
Pardon my iniquity, for it is great.
In Jesus name,
Amen
The Valley of Vision: A collection of Puritan Prayers Edited by Arthur Bennet, 1975
Study Questions
The bible is full of stories of people who faced persecution. Can you name any examples of people who were persecuted, and how they reacted?
What can we learn from Jesus example when he was about to face great persecution?

Consider his emotions in Gethsemane
Consider how he acted during his trial
Consider his words on the cross

Read Psalms 55. How might the verses of that chapter comfort someone in persecution?